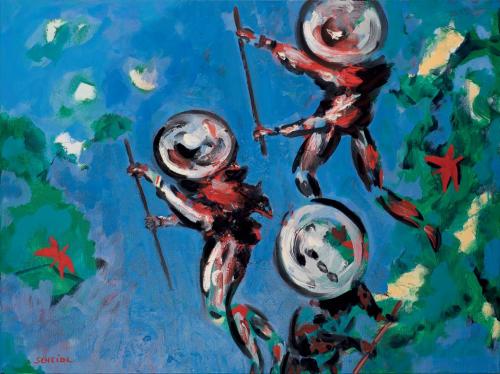 Roman Scheidl, Drei Wanderer, 2018, Öl auf Leinwand, 60 x 80 cm
Roman Scheidl
Current
Die Welt ist nur ein Pinselstrich
STRABAG Kunstforum cordially invites you to the opening of the exhibition "Die Welt ist nur ein Pinselstrich" and the presentation of the same-titled book by the artist Roman Scheidl.
Welcome and Opening, 18:30 Uhr
Dir. Wilhelm Weiß, STRABAG Kunstforum
About the exhibition:
Mag. Günther Holler-Schuster, Curator Neue Galerie Graz, Universalmuseum Joanneum
Thursday, 23.05.2019, 18:00 – 21:00 Uhr
Artlounge at STRABAG Haus,
Donau-City-Straße 9, 1220 Wien

Duration of the exhibition: 24.05-19.06.2019
STRABAG Artaward International 2019
Shortlisted Artists
Click here for the 51 artists of the jury preselection!


GIRONCOLI-KRISTALL
FREE HEARONYMUS AUDIOGUIDE
Immerse yourself in the monumental sculpture world of Bruno Gironcoli in the Gironcoli-Kristall at STRABAG Haus Vienna and learn more about the sculptures and other works by the artist in the STRABAG Art Collection!
DOWNLOAD THE FREE HEARONYMUS APP AND SEARCH "GIRONCOLI"

GIRONCOLI-KRISTALL
Access via the main entrance at STRABAG Haus
Donau-City-Strasse 9
1220 Vienna

Opening hours:
Mon-Thu 9-17, Fri 9-12
Access without prior notice
Admission free!

We are looking forward to your visit!
halb erinnert, halb vorhergesehen
Works from STRABAG Artcollection
10 years of STRABAG Kunstforum in Vienna,
20 years of STRABAG Artaward and
over three decades of STRABAG Artcollection!
Get more Information about the publication here!
Corridor view in the STRABAG Haus Vienna with an artwork by Gunter Damisch, Photo: Farid Sabha
STRABAG Artcollection
The Artcollection of STRABAG SE
The presence of art gives a company the chance to create a special atmosphere for its staff in company buildings, and ultimately to intensify creativity and productivity. Every time the gaze drifts away from the screen and instead turns toward a contemporary artwork, we look into another world. New ways of seeing open up, horizons are expanded. We are proud to make this experience possible on a daily basis for many of our employees in more than sixty company locations across Europe.
Thomas Birtel, CEO STRABAG SE
STRABAG Artlounge: Exhibition view Julia Steiner, Days and Spaces, 2017, Photo: Rudi Froese Photography
STRABAG Artlounge: Exhibition view Julia Steiner, Days and Spaces, 2017, Photo: Rudi Froese Photography
STRABAG Artlounge
On the top floor of the STRABAG building in Vienna
Visit our unique exhibition space in the attic of the company's headquarters in Vienna and enjoy not only international contemporary art, but also a fantastic view over the city.

STRABAG Artlounge at STRABAG Haus:
Access via main entrance
Donau-City-Straße 9
1220 Wien
Opening hours:
Mon-Thu: 9 am – 5 pm, Fri: 9 am – 12 pm
Admission free!
STRABAG Artstudio, Photo: Rudi Froese Photography
STRABAG Artstudio
Artists-in-Residence
The Artist-in-Residence program of STRABAG Kunstforum was founded for all artists of the STRABAG Artcolllection as well as former and current prizewinners of the STRABAG Artaward.
Find out, which artists have already been working at the studio.
Detail of a sculpture by Bruno Gironcoli on the Plaza in front of the STRABAG Building in Vienna, Photo: Farid Sabha
GIRONCOLI-KRISTALL
Art and event location
The art and event hall GIRONCOLI - KRISTALL shows nine sculptures by internationally renowned artist BRUNO GIRONCOLI in this first permanent exhibition of his works in Vienna. The monumental objects are made out of polyester and are on permanent loan at STRABAG Kunstforum.

I thought it would be possible to establish a connection between commercial management and artistic expression. The result is presented here. Look and see.
Bruno Gironcoli
This website uses cookies for analysis. By using our website, we assume that you agree to this use. Further information
A once declared consent to the storage of cookies can be revoked by you at any time by deleting the cookies. The revocation of consent does not affect the legality of the processing carried out on the basis of the consent until the revocation.